Leigh Law Group
DBA EDULEGAL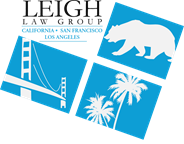 ---
Special education attorney advocates throughout California
and for all types of eligibility
870 Market Street
Suite 1157
San Francisco, CA 94102
Tel: 415-399-9155
Fax:415-795-3733
California Special Education Attorney Advocates
The field of education law requires attorneys knowledgeable in the practices and procedures of public, private and charter schools. There can be no substitute for an attorney advocate who has actually worked in a school setting. Ms. Leigh was a teacher for eight years in the sixth largest school district in the nation and has been a special education attorney in California for over thirteen years.
It is our mission to provide each of our clients with attorneys who use their practical experience working in school settings as well as their knowledge of the laws affecting education including, but not limited to, the California Education and Government Code, Individuals with Disabilities in Education Act, Section 504 and Americans with Disabilities Act.
Our approach is tailored to your needs - we prefer to work cooperatively with school districts and other agencies to provide appropriate educational and support services to persons with disabilities - but we also know when and how to proceed vigorously when a district or agency is being intransigent and failing to provide necessary services.
Here is what Leigh Law Group can do for you:
Attend IEP meetings
Assist parents during the mediation process, state complaints or uniform complaints
Represent parents at due process hearings
Assist parents in obtaining services on behalf of their child
Advise parents on decisions related to placement, testing and IEP goals
Assist parents in avoiding litigation through informal dispute resolution
Appeals of due process decisions along with state and federal litigation of special education issues.
Check out our web site for more detailed information and to contact us.