The Glen Ridge
College & Post-Secondary Employment Coaching Programs
---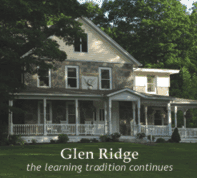 ---

77 New Milford Turnpike
New Preston, CT 06776

Tel: : 860-868-7377
Fax: : 860-868-7894


email: info@theglenholmeschool.org
The Glen Ridge College & Post-Secondary Employment Coaching Programs
in Connecticut
Glen Ridge is a college and post secondary program dedicated to assisting young adults with learning disabilities and Asperger's Disorder. The Glen Ridge program focuses on developing the skills essential to succeed in college, work environments and social settings. The program encourages and coaches autonomy in a safe, challenging and supportive setting. Glen Ridge is located near a grand selection of community colleges, universities and businesses in beautiful Western Connecticut.

Academic Supports


A broad range of learning options is available to the young men and women of Glen Ridge. Some young adults take their courses at colleges and universities in the area. They benefit from the face-to-face contact with professors and teaching assistants. This face-to-face learning can be supplemented with online coursework. Glen Ridge academic coaches help students to efficiently and effectively structure their time and space so that these virtual learning experiences are successful. Flexible online coursework is definitely a benefit to those who are engaged in the work experience of the Glen Ridge program. Together with the university disability services office, Glen Ridge advisors ensure that helpful supports, appropriate accommodations, manageable schedules and the proper learning tools are in place.

Work and Life Coaching


For some young adults at Glen Ridge, full-time and part-time work is a primary responsibility. Through real-life work situations, they gain valuable skills in autonomy and self-reliance as they become part of the economic fabric of the community. The young men and women practice applying and interviewing for jobs, maintaining positive work relationships and meeting the requirements of their positions. Job coaching is part of the milieu – providing critical skills for functioning and succeeding in the work place and building confidence in navigating social situations along with skills required to successfully move toward an independent lifestyle.

Clinical and Social Supports


As an affiliate of the Glenholme School, Glen Ridge is supported by the clinical experience and research of Glenholme. This research shows that young adults with Asperger's Disorder at a college level often require more attention than individual and group therapy can provide. While social and coping skills can be learned in a controlled environment, using these skills in social and employment settings can require carefully designed support. With the help of clinicians and life coaches, young adults are able to participate in situations where they can apply social and coping skills on their own, with confidence.

Building Relationships


The program at Glen Ridge is built upon a Relationship Coaching Curriculum. These young adults learn about the roles, rules and responsibilities of meaningful social relationships. Clinicians and coaches focus on the instruction that can be used to influence social interactions. They direct students toward more positive methods that will enhance their abilities in social relationships.