THE GLENHOLME SCHOOL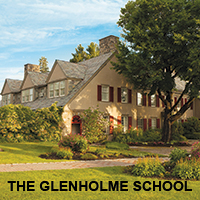 ---
81 Sabbaday Lane
Washington, CT 06793

Tel: 860-868-7377
Fax: 860-868-7413



admissions@theglenholmeschool.org
THE GLENHOLME SCHOOL:
A LEARNING ENVIRONMENT WHERE SPECIAL NEEDS STUDENTS THRIVE
in Connecticut
Serving students from around the world for 50 years, The Glenholme School is the premier coeducational, specialized boarding school for middle school and high school students, ages 10 to 18 at enrollment, and post-graduate/foundation year students, ages 18 to 21. The school's comprehensive learning environment supports the success of young people with high functioning autism spectrum disorders (ASD), ADHD, OCD, Tourette, depression, anxiety, and various learning differences.

BEHAVIOR TREATMENT MILIEU & CLINICAL SERVICES

The individualized program utilizes principles of applied behavior analysis (ABA) and Positive Behavior Interventions and Supports (PBIS) to help students accomplish their goals and meet their needs in a socially acceptable manner, while building upon their unique strengths, talents, and interests. Social workers meet with students regularly and provide individual therapeutic sessions including in vivo, as well as family sessions.

EDUCATION AND ACADEMICS

Accredited by NEASC, Glenholme provides an education program specifically designed on an individual basis that is compatible with each student's strengths, talents and abilities. Skill development in studying, critical thinking, organization, creative problem solving, cooperative learning, positive self-advocacy, character education, and a strategies approach to learning are intuitively integrated to help form more independent and motivated learners. Students also have the opportunity to take on-line classes, including AP courses, through Virtual High School (VHS), when appropriate. The guidance counselor assists students with post-secondary college and vocational goals.

BOARDING LIFE

Glenholme's therapeutic program is woven into each facet of life at school. With the support of boarding faculty and the abundance of opportunities for socialization and treatment, students learn to make friends and establish healthy relationships, as well as develop skills to manage their frustrations in an appropriate manner. Students are also instructed on personal hygiene and domestic care, fitness, sportsmanship, community involvement, and fun.

ARTS, ATHLETICS AND EXTRACURRICULAR ACTIVITIES

The visual and performing arts programs are fundamental elements in each student's daily life at Glenholme. The school's integration of the arts throughout education and boarding stimulates a greater understanding of social, emotional, academic, and behavioral aspects for students. Completing the school experience, students enjoy a range of arts opportunities, athletics, health and wellness, community service activities, culinary instruction, equestrian training, leadership lessons, and a wide array of extracurricular activities.

SUMMER PROGRAM

During July and August, Glenholme offers a summer program which gives students a unique enrichment opportunity. Morning academic learning, focusing on English and Mathematics, is strengthened with a wide variety of afternoon recreational and instructional activities emphasizing social skill development.

POST-GRADUATE & TRANSITION PROGRAM

The Transition Program provides a supportive program for post-graduates, ages of 18 to 21, in which they learn, practice, and master skills essential for success in college, work environments, and social settings.