Residential Care for Mentally Challenged in Arkansas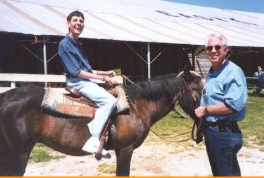 ---
2307 Easy K Road
Sage, AR 72573

Tel: 870-368-7444
Fax: 870-368-7444
Residential Care for Mentally Challenged Children and Adults in Arkansas
The Easy K Ranch is a small residential home for persons who are handicapped and is located on a large working ranch in North Central Arkansas. A wide range of disabilities is represented; those of a higher ability help those who need more supervision, thus providing the satisfaction that comes with service to others.
The Main building houses 10 males and females , all with private rooms. "Bunk House", housing seven,is for males who can live independently during evening hours but participate in activities at the main building during the day. Emphasis is on self care and outdoor activities.Limited to children over five years and ambulatory. Long term care providing programs to make each individual perform to their optimun capabilities. Affordable tuition.We are a 501(c)(3) non-profit organization.
Our activities include:
Self help and self care, including personal hygiene.
A daily walking program when weather permits. Our 60 acres offer varied, interesting areas for this activity.
A swimming program is conducted from June to September in a pool adjacent to the Chapel Building.
A religious service is held each Sunday afternoon conducted by local churches.
Supervised trips to local stores for shopping for those who are able.
Visits to local restaurants provide recreation and an opportunity to integrate in the community for some of our residents.
Visit our website at www.EasyKRanch.org to learn more about us.