Chapel Haven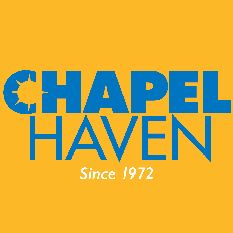 1040 Whalley Avenue
New Haven CT 06515
Tel: (203) 397-1714 ext. 148
Fax: (203) 937-2466
Chapel Haven West
1701 North Park Ave.
Tucson, AZ 85719
Tel: (203) 397-1714 ext. 148
Fax: (203) 937-2466
---
Comprehensive, Individualized Programs Meeting a Lifetime of Needs
Founded in 1972, Chapel Haven is an award-winning nonprofit and postsecondary school with a stellar track record of helping adults with developmental and social disabilities live independent and self-empowered lives. A state-approved private special education and independent living program, Chapel Haven has grown to serve more than 250 adults in 3 programs, offering a comprehensive array of services for students with developmental and social disabilities. Chapel Haven is unique in the field in offering supports for a lifetime.
Starting in 2017, Chapel Haven has embarked on its most significant campus expansion to date, with the goal of providing optimum, lifelong care to our growing community. The expansion includes a new, 32,500-s.f. REACH residential and classroom campus to house Chapel Haven's REACH program, which for 45 years has helped adults with cognitive and social disabilities learn to live independently; a new Welcome Center to serve as the new gateway to the campus, and, in a second phase, Chapel Haven will break ground on a new, four-story residential community designed for older adults. Along with apartments, clinical space and community services, this addition will be universal in design and layout, and will be intergenerational, where adults with disabilities can flourish into their senior years in a vibrant and non-institutional setting.
Chapel Haven's core programs are:
The REACH Program (Residential Education at Chapel Haven) is the only program in the country for adults with cognitive disabilities that is approved by the State of Connecticut Department of Education, licensed by DDS (Department of Developmental Services) and nationally accredited by CARF (Commission on Accreditation of Rehabilitation Facilities).
In REACH, Chapel Haven serves 30 residential students and a small number of day students in its two-year educational program. In addition the Supported Living Program serves 170 graduates who are Community Members. Students come to Chapel Haven from all over the United States, as well as Canada, the Far East, and Europe. Our New Haven location gives students and community members the opportunity to develop a full and varied lifestyle within a small city setting.
Chapel Haven's Asperger's Syndrome Adult Transition (ASAT) program in New Haven, CT, was created with expertise 10 years ago to serve adults with Asperger, High Functioning Autism and related social disabilities. We are thrilled to announce that we have redesigned the program to offer more price points and choices for families looking for the right next step for their loved ones. Chapel Haven's ASAT program is an ideal choice for adults needing:
transitional housing with individualized supports
Day programming options to support college and/or vocational development
Older adults who have some experience with independent living and need targeted instruction in executive functioning, time management, college survival skills, social communication
Chapel Haven West in Tucson, AZ has become our premiere program for high functioning adults who need a 24/7 environment in which to gain confidence in social communication, life skills, help with college and with vocational supports. Our Chapel Haven West campus is staffed around the clock, staffed by a team trained in social communication as the umbrella focus of our program, and located literally five blocks from the University of Arizona. Chapel Haven West students enjoy classes and programming on the UA campus for teaching, learning, socialization, offering a vibrant "college experience." Chapel Haven West teaches independent living, executive functioning, college survival skills, social communicative competency, a vibrant weekend recreation program and a successful vocational curriculum.