---
Brooklyn Letters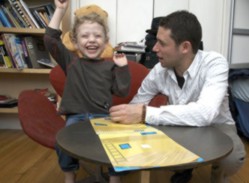 ---
Speech Language Therapy and Professional Learning Services
---
435 15th St. #1
Brooklyn, NY 11215
Tel: 347-394-3485
E-Mail:
craig@brooklynletters.com
WWW:www.BrooklynLetters.com

Private Speech Language Therapy & Professional Tutoring Services
Brooklyn Letters is composed of speech language specialists and a team of experts in reading, clinical and educational psychology, neuropsychology, psychotherapy, creative arts therapy, occupational therapy, nutrition, hearing, and parent support.

Brooklyn Letters treats and evaluates all ages (infants through college age students) and therapy and professional tutoring can be offered in their offices or they can come to your home or child's school. How's that for customer service?

They offer tutoring for all kids and teens, including those with special needs and special education issues such as language processing, dyslexia, ADD/ADHD, autism spectrum, and Aspergers.

Their professional services includes treating difficulties with:

Speech (enunciation, grammar, social skills, etc.)
Listening (such as comprehension)
Reading (such as decoding, comprehension)
Writing skills (such as organization, grammar)

We pride ourselves on being able to develop strong relationships with our families and with the community.