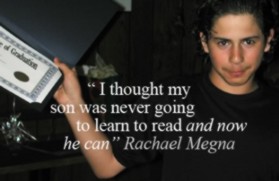 ---
The Sterling School
Where Your Child Comes First
Brooklyn, NY
---
299 Pacific St
Brooklyn N.Y.
Tel:718-625-3502
Fax: 788-625-7393
E-Mail: sterlingschool@msn.com
The Sterling School - for children with Dyslexia, ADD, and Langauge Based Learning Disorders
Brooklyn, NY
Grammar school for children with Dyslexia, ADD, and Langauge Based Learning Disorders

The Sterling School is a small intimate private school for children in grades 2-6 using a multi-sensory Orton Gillingham bases curriculum to help children diagnosed with Dyslexia, and/ or langauge based learning disorders who are struggling in school.

one-to-one or one-to-two daily Orton- Gillingham intervention
small groups for Math
Full time guidence counselor to address self-esteem issues
multi-sensory methodology accross the curriculum

The Sterling School was founded in 1999 to meet the needs of Dyslexic and Language Based Learning Disabled children using research-based methodology. It was apparent that in the New York City area, there were only a handful of schools that had any sort of program for Dyslexic children and few with a specialized curriculum designed specifically for them. The mission of The Sterling School is to provide that curriculum. Reading, writing, spelling and language arts are addressed using a sequential, direct multi-modal methodology known as Orton-Gillingham. Students receive instruction in classrooms where there is a 1 to 8-teacher student ratio. In addition to daily individual remediation which provides an individualized, integrated learning environment.