Play This Way Every Day LLC
---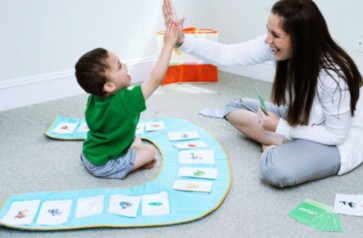 ---
487 East Main Street
Suite 171
Mount Kisco NY 10549
Tel: 888-400-5740
Fax: 888-400-5740
Pediatrician Invented U-Play Mat With General Speech Therapy and Autism/ABA Manuals Available

The U-Play Mat is a patent-pending U-shaped adorable floor mat with card decks desgined by a pediatrician with two sets of twins, originally intended for language based play at home. An amazing speech therapy manual (www.playthisway.com/speech) and additional manual for Autism/ABA therapy (www.playthisway.com/autism) with U-Play are available free on the website and expanded U-Play into a standard therapy tool - and a great way for parents to replicate therapeutic exercises at home.

Pediatrician created!
For all children ages one and up!
Learning to talk & understand can be FUN!
Ten games per card deck!
Grows with your child!
Get on the floor and PLAY THIS WAY EVERY DAY!