N2Reading, Inc.
---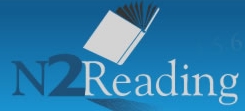 ---
Dyslexia or Something Else?
ICS is Commonly Misdaignosed as Dyslexia.
We Can Help with Testing and Vision Training
---
1025 N. Maple Ave.
Cookeville, TN 38501-1826
Tel: 931 526 1562

If your child is not reading by grade 3 you need our help!
We at N2Reading provide a vision training program via the Internet that reduces reading difficulties within 4-6 weeks. Many who have been diagnosed as having Dyslexia actually have a closely related problem called Intermittent Central Suppression (ICS). In order to determine the likelihood of our program being able to fix ICS, as well as several other misdiagnosed reading problems, we provide a test kit for this purpose and it is free except for handling and mailing costs ($5). The test kit takes you through several test proceedures that allow you to assess the likelihood of our training program being an appropriate treatment to improve your reading ability.

Essentially, our program retrains that portion of the brain that is associated with the normal process of making the eyes work together during the reading task as well as other normal visual processes. We call it "training wheels for the brain".

Our program has provided much-needed relief for hundreds of children to date (see the "Results" tab on the home page of our web site www.n2reading.com).