The Learning Curves
---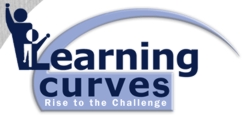 ---
Where Struggling Students reach their Highest Potential
---
1351 Evergreen Way
Orrtanna PA 17353

Tel: 717-337-2212
Fax: 717-334-2533

E-Mail: thelearningcurve@embarqmail.com
One-on-one instruction for dyslexia, ADHD, math, and Learning Disability programs
The Learning Curves is a diagnostic learning center, specializing in learning disabilities, dyslexia, auditory processing disorders and attention. Its mission is to prepare the brain for learning by strengthening or developing the underlying thinking processes that allow academic skills to flourish.

Programs, for ages 2 to adult, treat the Root Causes of Learning Difficulties, Not Just the Symptoms! We train the entire learning system to function properly by strengthening cognitive processing skills. These are the brain's tools that enable students to learn academic knowledge. All of our programs are based on scientific research.

Among the learning programs we use are:

PACE and Master The Code

"His greatest improvement this past year I think has been his concentration. He can stay focused for longer periods of time, therefore, his comprehension has improved..."


The Listening Program®and Learning Ears®
"We and others have noticed great improvements in her academics as well as social skills & her physical coordination..."


Interactive Metronome®
"This was the first parent conference I did not dread going to..."


Other programs include Visualizing and Verbalizing®, Math U See, and Read Naturally.


Visualizing and Verbalizing® is a trademark of Lindamood-Bell Learning Processes. Lindamood-Bell Learning Processes in no way guarantees the quality of the materials or services that may be supplied by The Learning Curves. The Learning Curves is not affiliated with, certified, licensed, monitored or sponsored by Lindamood-Bell Learning Processes, Nanci Bell, Phyllis Lindamood or Pat Lindamood. www.lindamoodbell.com.