Independence Center
---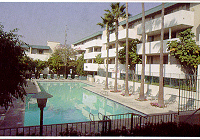 ---
Mainstreamed transitional residential program for young adults with learning disabilities
---
3640 S Sepulveda Blvd.
Suite 102
Los Angeles, CA 90034

Tel: 310 202-7102
Fax: 310 202-7180
E-Mail:
judym@independencecenter.com
Web Site:
www.independencecenter.com
We provide the bridge from dependent adolescence to independent adulthood.
Independence Center, a postsecondary mainstreamed residential program established in 1985, and the only program of its kind to offer scholarships, serves men and women, ages 18-30. We are a purposely small program, typically serving about 25-30 clients at once.

Program participants live in a large corporate apartment complex with our apartments spread throughout the complex. We provide support with:

independent living skills

social/communication skills

vocational skills

Residents work and/or go to school. Typical length of stay is 2-3 years. We do not accept applicants who are retarded or have a history of drug or alcohol problems.

Applicants are accepted at any time during the year.