Susan Friedberg, LCSW, BCD
---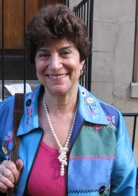 ---
Therapy and Empathy Available for You and Your Child
---
213 West 70th Street
New York, NY 10023

Tel: 212-877-2305
Fax: 212-877-2305
E-Mail: sfriedberg3@nyc.rr.com
Family,Child,and Teen Therapist with Professional and Personal Experience
Sub-specialty in Treating Eating Disorders
New York City
I have over twenty five years of experience as an individual, group and family therapist with personal and professional knowledge of learning disability and Attention deficit disorder challenges. I am familiar with both the issues and many of the resources available.

My extensive training in family work, as well as my individual work with adolescents, and my own first hand experience allows me to understand what you are dealing with. I have known the difficulties and rewards of raising a learning disabled youngster.

I am practitioner of Gestalt and EMDR therapy, and I have a subspecialty in working with children, teens, and adults with eating disorders.