Burdick Psychological Services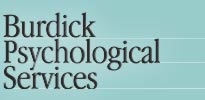 ---
Aptos Office
26 Seascape Village
Aptos, CA 95003

Tel: 831-687-0757
Fax: 831-603-3018
Palo Alto Office
415 Cambridge Avenue
Palo Alto, CA 94306

Tel: 650-380-2011
Fax: 831-603-3018

TOLL FREE: 877-571-2524
E-Mail: info@drburdick.com
Burdick Psychological Services for Children, Teens, and Adults
in Aptos and Palo Alto, California and Nationwide
Burdick Psychological Services offers your child and your family support in assessing and treating psychological, family, and school placement and advocacy problems. From assessment services for learning disabilities, to individual and group therapy to placement in therapeutic programs, to court and hearing room issues, BPS assists clients through the maze of confusion to provide therapeutic treatment.

Among the services offered by Dr. Burdick and his staff:

Therapeutic Program Options Tailored to Needs --substance abuse, emotional growth, psychiatric care, LD/ADHD issues, among others. Individual and Group Therapy (including psychoeducational groups for addiction and teenage issues) is available. Dr. Burdick is very careful to find the right match between the individual program and the needs of each child or teen.



School Placement -- boarding, college, and summer programs. Dr. Burdick is a credentialed school psychologist and administrator. He is aware of the "best college choices" for learning disabled to under-motivated to "gifted" students. He can provide successful national and international placements.



Assessment -- clinical, educational, forensic. Individual assessment including substance use, eating disorders, conduct and temperament.



Consulting --special education advocacy, expert witness testimony. Dr. Burdick is considered an expert in both court rooms and hearing rooms.

Visit us on the Web at: www.drburdick.com