About Special Kids
---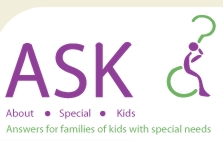 ---
Help for Indiana Families with Special Needs Kids
---
7275 Shadeland Ave., Suite 1 Indianapolis, IN 46250

Tel: 317-257-8683
800-964-4746
Fax: 317-251-7488

E-mail: familynetw@aboutspecialkids.org

Web Site:
www.aboutspecialkids.org
Help for Children with Special Needs -- and their Families -- in Indiana

About Special Kids is a family-directed not-for-profit organization supporting children with special needs and their families by providing information, peer support and education, and building partnerships with professionals and communities. The majority of our Board of Directors and staff are parents of children with disabilities and chronic illnesses.

ASK Provides:

Information:

Local, state and national resources given by phone and mail to answer questions about disabilities, laws, health, education and social services.

Monthly E-Newsletter:

Online Directory of Resources for Children with Special Needs (local, statewide, national and international resources).

Peer Support:

Practical information and emotional support provided by connecting families by phone and in person.

Parent Mentors:

Education:
Individual problem solving, workshops, and conferences for parents, family members, services providers and policy makers.