The Reading Clinic
Palo Alto
also offering Speech Therapy and Occupational Therapy
---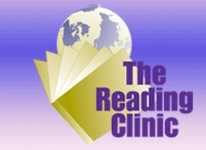 ---
Helping Every Student Achieve Mastery in Reading, Language Comprehension, Writing, and Math
---
445 Sherman Ave, Suite N
Palo Alto, CA 94306
tel: 650-325-0245
fax: 800-790-5302
E-mail:info@thereadingclinic.com
Helping Every Student Achieve Mastery in Reading, Language Comprehension, Writing, and Math
Since 1997, The Reading Clinic has offered one-to-one instruction in reading, spelling, writing, language comprehension and math. Using research-based, multi-sensory programs.

We are experienced with tutoring for learning differences, learning disabilities, dyslexia, central auditory processing disorders (CAPD), ADD, ADHD, cognitive and neurological disorders, Pervasive Developmental Disorders (PDD), including Autism and Asperger's Syndrome.

We also offer qualified speech therapy and occupational therapy to our students.

We are trained to implement the following programs:
Lindamood Phonemic Sequencing® Program (LiPS®)
The Seeing Stars®: Symbol Imagery for Phonemic Awareness, Sight Words and Spelling Program
Visualizing and Verbalizing for Language Comprehension and Thinking® (V/V®)
The Writing with Ease® Program
The Math with Ease® Program
Quick Reads® Research-Based Fluency Program
Great Leaps® Reading Program
The Morphology Program®
The Alert Program® for Self-Regulation
Handwriting Without Tears® Program

The Reading Clinic is not affiliated with, certified, licensed, monitored or sponsored by Lindamood-Bell Learning Processes®, Inc., Nanci Bell, Phyllis Lindamood or Pat Lindamood. Lindamood-Bell Learning Processes®, Inc., in no way guarantees the quality of the materials or services that may be supplied by The Reading Clinic.