---
Online Speech and Language Therapy Telepractice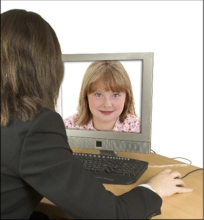 ---
Leading Innovator in Online Speech and Language Therapy
---
113 Barksdale Professional Center
Newark DE 19711
Tel: 800-370-4910
E-Mail:
mellingsen@OnlineSpeechTherapy.com
WWW:www.OnlineSpeechTherapy.com

Ellingsen and Associates, Inc. Provides Online Speech and Language Therapy Telepractice
"OnlineSpeechTherapy.com"
Speech and language therapy online telepractice

Licensed, Certified Speech Language Pathologists

Live, interactive, individualized, highly motivating and effective therapy sessions

Providing Services to:

School Districts
Charter schools
Virtual Schools
International Schools
Home Schooling
Headquartered in the United States, we have proudly provided speech and language therapy to schools and families across the country and internationally for 30 years and counting! Founded, owned and managed by Mary E Ellingsen, a licensed, ASHA certified speech language pathologist. Our mission is to provide access to live, interactive professional speech language therapy for all eligible students.
Maximize your school budget - Don't waste your precious resources on travel time between schools or paying for travel or mileage. At Ellingsen and Associates, WE COMMUTE WITH A CLICK!