Maria Zimmitti, Ph.D. & Associates
---
Psychological evaluation and treatment services to children, families and adults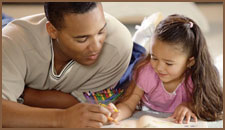 ---
Hamilton Court
1230 31 St, NW
2nd Floor
Washington, DC 20007

Tel: 202-333-6251
Fax: 202-333-6255

E-Mail: mzimmitti@drzimmitti.com
WWW: www.drzimmitti.com
Comprehensive Evaluation Services
We provide psychoeducational and clinical evaluations, as well as speech-language evaluations of children, adolescents and adults.

Common issues we evaluate include learning disabilities, attention deficit disorders, language processing disorders, anxiety and depression.


We are experienced in evaluating students' eligibility for test-taking accommodations in schools, universities, and on standardized assessments, such as the SAT and LSAT.


Our reports are thorough, yet easily communicated to parents and professionals.


We enjoy collaborating with schools and other providers and regularly participate in the development of Individualized Education Programs for students requiring special education services.