---
Innovative Speech & Language Pathology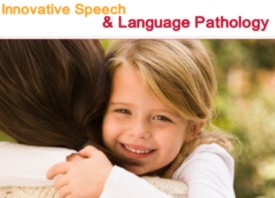 ---
Our words are the breath that vibrate through the body and gives life to our intentions. This vibration is the binding force among individuals.
---
9171 Wilshire Blvd.
Ste.#PH12
Beverly Hills, CA 90210
Tel: 310-486-1717
E-Mail:
odelia@innovativeslp.com
WWW:www.innovativeslp.com

Speech & Language Pathologist in Private Practice
Beverly Hills, California
Innovative Speech & Language Pathology is a private practice serving pediatric through geriatric populations. Our services are dedicated in building a bridge for communication through speech/articulation, phonology, apraxia, voice, tongue thrust, fluency, reading/writing comprehension, auditory processing, ASD, cognitive deficits, dysphagia, dysaprthria, aphasia among other developmental/acquired speech and language deficits. ISLP uses an innovative approach utilizing a wide variety of therapeutic techniques tailored specifically towards each individual's needs. Each session is based on an individual 1:1 with optimal energy and client/clinician involvement.

ISLP takes an integrative approach, using either a whole/partial technique to better serve the individual and their families. This results in an effective, eclectic and an individualized approach that's specific to each individual. Our therapeutic services are enhanced through the use of music, singing, and movement involving the left hemisphere to better serve the individual needs where traditional speech therapy has failed. We offer services in English and Farsi and as well utilize the use of Cued Speech as well as some American Sign Language.

ISLP provides comprehensive evaluations with reports in the areas of speech and language skills, including but not limited to: articulation, phonology, tongue thrust, expressive and/or receptive language, auditory processing, voice, fluency/stuttering, social/pragmatic skills development and reading comprehension. We further provide consultations and therapy for individuals, their families, non-public/private school, early intervention programs, as well as the Regional Center. We accepts private pay clients by appointment only with cash/check being the only means of payment at the time of service. At ISLP we don't accept insurance, however, a super-bill with all the necessary documentation is provided for our families to submit to their insurance company.

Our mission at Innovative Speech & Language Pathology is to help people of all ages to communicate better and make a difference in the each of our individual's life despite how small or large, fast or slow the progress may be.

Visit our website at www.innovativeslp.com to learn more about our services.