---
Independent Speech, LLC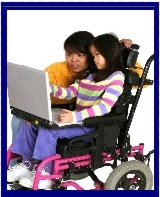 ---
Speech Therapy Telepractice
---
28731 N 25th Glen
Phoenix, AZ 85085
Tel: 602-793-2958
E-Mail:
stephanie@independentspeech.com
WWW:www.independentspeech.com

Independent Speech, LLC is a web-based speech-language therapy private practice
We provide evaluations, on-going therapy and consultative services for a variety of communication disorders including; voice, fluency, language, literacy, articulation, phonology, aural rehabilitation, pragmatics and aphasia.

We offer a comprehensive therapy program that includes:
-Therapy Sessions
Our face-to-face therapy sessions are conducted over a secure internet site, using a web-cam. These sessions are conducted in a manner similar to traditional speech therapy sessions.
-Activities
We offer therapist designed, interactive learning activities and games to reinforce skills and concepts addressed in therapy. We are constantly updating our activity center so there are always new activities to ensure continued interest.
-Blog
We offer a blog for our patients to ask questions, exchange ideas or just connect with others experiencing the same communication disorder(s).
-Reference Library
We maintain a reference library which houses links to websites, articles and other resources that may be beneficial to our patients. This library is updated weekly to ensure we are offering current information.
Visit our website at www.independentspeech.com to learn more about our services.