Frishman & Faber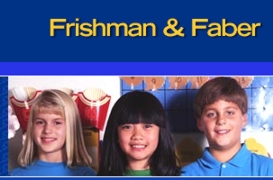 ---
Attorneys & Advocates For The Special Family
---
399 Knollwood Road
White Plains, NY 10603

Sheryl R. Frishman, Esq.
Direct Dial: (914) 898-2106
sfrishman@littmankrooks.com

Jill F. Faber, Esq.
Direct Dial: (914) 898-2113
jfaber@littmankrooks.com
Frishman & Faber, Attorneys and Advocates for the Special Family
Frishman & Faber specializes in providing quality advocacy for the unique needs of children with special needs from birth through adulthood in New York & Connecticut. At Frishman & Faber, it is our mission to provide expert counseling and advocacy in a field where families are underserved. Our combined skills and experience enable us to serve as a resource for families of children and adults with special needs in a variety of settings. Some of our services include:
Assistance in obtaining appropriate special education and 504 services from birth through age 21;
Estate planning to protect the financial future of your disabled family member using specialized trusts; and
Assistance in obtaining guardianship.
Being parents of children with disabilities, and through vast legal and community experience, Frishman & Faber is committed to assisting families in all legal aspects of having a child with special needs.