EdTeam Education Solutions, Inc.
---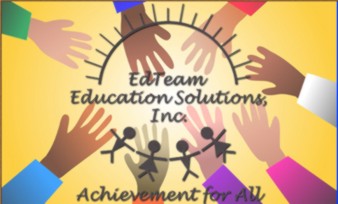 ---
Achievement for All
Specialized Educational Services in Solano County, CA
---

1652 W. Texas St., Ste. 259
Fairfield, CA 94533


Tel: (707)427-6438


E-Mail:
ktipton@edteaminc.com


Specialized Educational Services, including Educational Assessments, in Solano County, CA
EdTeam Education Solutions, Inc., in Fairfield, California, is an educational services agency providing comprehensive, specialized assessment and intervention services in a collaborative team environment for struggling students and students with diagnosed or suspected disabilities of all ages (2 through adult). Our highly individualized services are designed to increase students' achievement levels, improve their ability to benefit from instruction, and help them learn to learn according to their strengths, weaknesses, and learning styles.

All of our staff are licensed and/or credentialed and well-experienced in the State of California, including a licensed educational psychologist, speech and language pathologist, occupational therapist, and special education teachers. Our services include:

Psycho-educational assessment (e.g., learning disability, ADHD, Autism, etc.)
Speech and language assessment and therapy
Occupational therapy assessment and consultation
Tutoring with credentialed special education teachers
Education and behavior consultation
Special education and 504 consultation
Educational counseling
Parent education and support
Middle and high school career exploration
Test preparation (STAR, SAT, GED, ASVAB)

Please visit our website for a complete description of our agency and services and for informational pages on learning disabilities and ADHD. Contact Kathlyn Tipton by phone or email if you have any questions.