Dyslexia Breakthrough Correction Center
---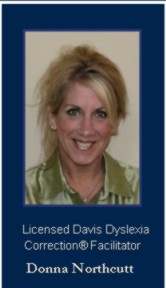 ---
The Davis® Programs help overcome Dyslexia, ADD, and Learning Difficulties serving Dallas/Fort Worth
---
320 Decker Dr.
Irving (Las Colinas), TX 75062
Tel: 214-315-3698

Certified Davis® Dyslexia Correction Facilitator offers one-on-one Davis Dyslexia Correction Programs
serving Dallas/Fort Worth
At Dyslexia Breakthrough Correction Center, I offer a wonderful one on one private program that allows the individual student to receive personal tools and learn unique mastery exercises to break through the barriers that dyslexics experience.

Here at my center I provide the Davis® Dyslexia Correction Programs. The Davis® Programs enable you to gain the ability to overcome learning difficulties and correct the reading challenges that come with dyslexia. It recognizes and addresses the root cause of reading difficulties, not just the symptoms. These programs are highly effective for correcting problems with; reading, comprehension, writing, attention focus (ADD), hyperactivity (ADHD). These specific procedures and exercises allow the student to gain the ability to overcome their learning problems. Giving them a renewed self confidence that has been hiding within.

Listed below are the programs I offer. I welcome you to visit my website and learn more about Dyslexia and the Davis Dyslexia Correction Programs.

The Davis® Dyslexia Correction Program (Reading Comprehension)
The Davis® Attention Mastery Program (ADD, ADHD)
The Davis® Reading Program for Young Learners (Ages 5 ­ 7)




Professional services described as Davis®, Davis Dyslexia Correction®, Davis Symbol Mastery®, Davis Orientation Counseling®, and Davis Math Mastery® may only be provided by persons who are employed by a licensed Davis Specialist, or who are trained and licensed as Davis Facilitators by Davis Dyslexia Association International.