College Living Experience
---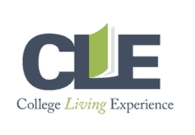 ---
For College Students with Special Needs
---
6555 Nova Drive Suite #300
Davie, FL 33317

Tel: 954 370-5142
Fax: 954 370-1895

E-mail: pyoung@esa-education.com

wbyrnes@esa-education.com


WWW: www.cleinc.net

CLE-Monterey
787 Munras Avenue
Monterey CA 93940
Tel: (831)641-9615
About College Living Experience
College Living Experience

is a post-secondary program that provides intensive assistance with academic, independent living and social skills to college students with special needs as they transition to become independent adults. Learning issues that CLE works with include: ADD, ADHD, Autism, Asperger's,and Nonverbal Learning Disorders, among others. CLE transition programs assist students throughout the college process, from registration to orientation to study to life-skills development. With centers in Austin, Denver and Ft. Lauderdale, CLE offers access to nearly 20 community colleges, universities and technical institutes that offer a wide variety of certificate and degree programs.

Services
CLE wants students to become independent, competent adults. To do that, students must be strong academically, socially, and be able to control their own lives. That's why we focus on academics, independent-living skills, and social skills. When a student can put all three together, he or she is ready to take on the world.

Academics
College Living Experience provides students with comprehensive academic support from the very beginning of the process. We assist with applying, enrolling and registering for classes. We help match students with classes and instructors with whom they'll succeed.

Once enrolled in college, we provide professional, experienced tutors with expertise in the subjects they tutor. We also offer mandatory study hall. Students attend study hall 3-4 times per week. Once a week, students participate in Course Review. This is a weekly checkpoint to be sure students are on task and engaged.

Independent Living Skills
From the beginning, College Living Experience students are living independently. They are responsible for understanding and directing their own budget, for keeping their own apartment in order, and for stocking their homes with daily living necessities.

Social Skills
We support and reinforce appropriate social skills daily, through the following programs:

The CLE Mentor: This is a graduate student who acts as a big brother or sister. These relationships are low-key and friendly, often involving things like going to lunch, the mall, the bank, or even playing video games.
Social-skills groups: These are groups that come togetether around events like movies, bowling, dinner, trips to the gym, etc. They are totally optional, usually totally fun, and always a great venue for expressing or just sitting back and taking it all in.
Social events: These include group activities such as trips to see a Broadway Musical, Art Exhibits, local festivals, and fishing trips.