College Living Experience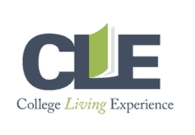 ---
For College Students with Special Needs
CLE-Denver
1391 Speer Blvd. #400
Denver, CO 80204
Tel: (303) 825-2533
Fax: (303) 825-2538

About College Living Experience in Denver, Colorado
College Living Experience is a post-secondary program for students who require additional assistance to become successful learners and more independent adults. College Living Experience provides intensive assistance to students with varying abilities, such as autism spectrum disorders, including Asperger's Syndrome, specific disabilities or social and emotional maturation issues. CLE's individualized support complements students' higher education goals and prepares them to transition confidently to independent adulthood.
Services
Only College Living Experience offers a complete network of comprehensive services. The ongoing support of resident advisors, tutors, mentors, psychologists, academic liaisons, site directors and others helps students become more self-sufficient, more independent and more confident. The result – students are empowered to advocate for themselves, they master the skills needed to live independently, they are prepared to make daily life decisions and they develop rewarding and appropriate relationships with peers and adults.
Students who haven't completed high school can earn an accredited diploma at College Living Experience. At some locations, they can earn high school and college credits at the same time. Students travel from all over the world to attend one of six CLE centers in Austin, Texas; Chicago; Denver; Ft. Lauderdale, Fla.; Monterey, Calif.; and Washington, D.C.
Academics
College Living Experience provides students with comprehensive academic support starting with applying, enrolling and registering for classes. Experienced professional tutors provide additional support, and students who haven't completed high school can earn an accredited diploma at College Living Experience. At some locations, they can earn high school and college credits at the same time.
Independent Living Skills
College Living Experience students master the skills required to live independently. Perhaps more important, they acquire the judgment to make sound decisions about daily life.
College Living Experience students share an apartment near campus with a roommate. With coaching from an independent living skills instructor, they learn to use public transportation, manage their money, pay bills, shop for groceries and prepare meals, clean their apartments and do their laundry.
A resident advisor who lives in or near the apartments is joined by other staff who facilitate social activities and help students navigate daily life. Each student has a mentor, typically a graduate student in psychology, who gives students the opportunity to put their skills into practice so they develop confidence and independence. If issues arise, a dedicated team — including a director, a psychologist, tutors, a mentor and a resident assistant — comes together to provide emotional and social support.
While achieving independence is the goal, many parents want to be kept informed of their child's progress. College Living Experience staff provide progress reports and communicate regularly with parents.
Social Skills
College Living Experience students receive the support they need to make — and be — a friend. Facilitated opportunities to become comfortable in social situations and develop appropriate, fulfilling relationships with peers and adults set the stage for future encounters that are successful and satisfying. Social skills support includes a weekly group led by the staff psychologist in which students talk about issues such as stress management, coping skills and other topics. Students also meet regularly with their College Living Experience case manager to talk about their progress, assess their independence and make sure they are successful and engaged. Students experience social life off campus, too, by participating in outings and events with College Living Experience staff.