College Internship Program (CIP)
Berkshire Center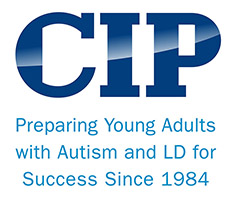 Admissions Contact Info
National Admissions Office
199 South Street
Pittsfield, MA 01201

Tel: 877-566-9247
Fax: 413-243-2517

CIP Berkshire
40 Main St, Suite 3
Lee, MA 01238
413-243-2576
Admissions x 34 www.cipberkshire.org
CIP Locations
Berkeley, California
Long Beach, California
Bloomington, Indiana
Lee, Massachusetts
Melbourne, Florida
College Internship Program in Pittsfield, Massachusettes (Berkshire Center)
CIP is one of the most comprehensive programs in the world for assisting young adults with learning differences to succeed in college, employment, and independent living.
Our mission is to inspire independence and expand the foundation on which young adults can build happy and productive lives.
CIP offers Full-Year and Summer Programs for young adults on Autism Spectrum and with learning differences at 5 locations. We focus on executive functioning, social skills, independent living skills, and much more with the goal of helping the students move in the direction of successful independent living.
Summer@CIP is a 2-week summer program for students entering the 10th, 11th and 12th grades as well as recent high school graduates. Participants will spend two weeks on a college/university campus learning valuable skills and gaining experience in independent living, social skills, executive functioning and organizational skills.
Mploy Job Readiness Program is designed for young adults ages 18 to 26, who are interested in entering the workforce and transitioning to independent living. Participants develop employment readiness skills, learn self-advocacy, build friendships, and take part in activities designed to help them prepare for their future.
Student criteria:
Documented diagnosis of Asperger's syndrome, high-functioning Autism, Nonverbal Learning Difference, PDD-NOS, ADHD, or dyslexia
Emotional, behavioral, and psychological stability
High level of motivation to meet program goals
Potential to live and attend college or career program independently
Ages typically 18 to 26 for Full-Year and Mploy, and 14-18 for Summer Program
International Students are Welcome!
Visit www.cipworldwide.org or call our National Admissions Office at 877-566-9247 to learn more.
About CIP Berkshire
The town of Lee is in The Berkshires of Massachusetts, located 112 miles from Boston and 130 from New York City. Both a top destination and place to live, The Berkshires was ranked by National Geographic for "Best-Rated Places" as the #3 in the USA. CIP Berkshire, which was founded in 1984, has the largest community of students and staff of all the CIP centers and has strong roots in the community. In 2011, the Berkshire Center opened The Good Purpose Art Gallery and The Spectrum Playhouse, both which provide exciting creative, artistic and employment opportunities for CIP students.
CIP Berkshire offers support at local 2-year, 4-year and business school options while students pursue majors such as Business Administration, Computer Information Systems, Criminal Justice, Culinary Arts, Early Childhood Education, Animal Care, Engineering and Fine Arts. The Berkshire's offer unique opportunities in the fields of visual and performing arts, hospitality and management, culinary arts, early childhood education and much more.