Applied Learning Processes
---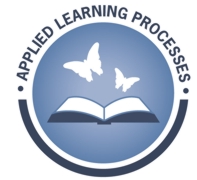 ---
Successfully implementing multi-sensory, systematic concepts since 1989
---
430 East Blue Ridge Blvd
Kansas City, MO 64145
Tel: 816-942-6808
Fax: 816-942-6898
For independence in reading, writing, language comprehension, and math
Applied Learning Processes offers .

diagnostic evaluation
clinical treatment
consultation
professional development

Our methods stimulate the sensory-cognitive processing that is necessary for efficient reading, writing, and comprehension. We specialize in developing

phonemic awareness and symbol imagery as a base for reading and spelling.
mental imagery as a base for language comprehension, expression, and math skills.
visual/motor/language integration as a base for interpreting and producing graphic information.

Most of our students experience years of gain in weeks of work.
Please visit our web site for more information:
http://appliedlearningprocesses.com
Applied Learning Processes is an independent facility and is not affiliated with Lindamood-Bell Learning Processes, Inc., Pat Lindamood, Phyllis Lindamood, or Nanci Bell.