Reading and
Language Arts
Centers, Inc.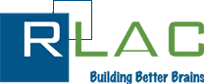 Building Better Brains
---
36700 Woodward Ave. Ste. 20
Bloomfield Hills, MI 48304

Tel: 800-READ211
Tel: (248) 645-9690
Fax: (248) 645-2335

E-Mail:info@rlac.com
Highly trained professional tutors specializing in private instruction for the learning disabled student.

Nationally Accredited, multisensory phonics-based approach to reading, writing, and spelling.

Individually designed programs to meet the changing needs of each learner.

Success-oriented, positive learning environment focuses on empowering students to become self-correcting and independent learners.

One-to-one tutoring allows constant interaction between student and tutor to maximize learning during each session.

Areas of remediation and enrichment:

Reading readiness, reading, spelling, comprehension, writing, math, homework help, study and test taking skills, and SAT preparation.
Regional offices in Shelby and Livonia, Michigan
For more information, visit our web site: www.rlac.com